Our Spa Therapy menu is designed to facilitate deep relaxation, promote inner calm, connect you to your inner spirit, and indulge your senses. The formulas used are specially prepared to assist your health needs. Each treatment recipe is mixed just prior to your appointment, so please book your desired service in advance so all ingredients will be available for you.
Dead Sea Salt Scrub/Organic Sugar Rub: Gentle exfoliation of dry skin reveals luxuriously silky skin hidden beneath. These treatments calm and balance by revitalizing the skin and allowing tension to melt away. A light massage completes the treatment.
Dead Sea Mud & Herbs Body Wrap: The body is exfoliated with a dry brush to begin the treatment. Mud and herbs are then applied to draw out impurities and you feel yourself rejuvenate while cocooned in the mineral rich mud. A light massage completes the treatment.
Ayurvedic Marma Massage & Shirodhara: This deeply relaxing treatment combines Marma massage (working with pressure points along the sen lines) with Shirodhara (a steady stream of warm oil falling gently onto the Third Eye Chakra) for complete tranquility and charity.
Hot Herbal Compress: Following the Thai tradition of using steamed herbal balls along sen lines, this treatment allows muscles to release and unwind. Herbal Compresses can be combined with either Swedish or Thai massage.
Please contact me for a full Spa Therapy Brochure.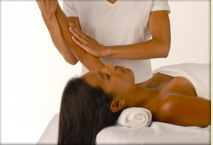 Spa Therapy is by appointment only. These sessions are held in my private studio in Jackson. Please call or email for further information.